How to add Picture/Image to site www.makePakistanBetter.com

Step 5:
Adding Pictures/Images
currently uploading Pictures/Images is not allowed directly by users/members, but still you can add pictures to the articles after signing in.
there are two work around for adding picture to the article/voice/reply.
way 1-send pictures to this email webmaster@makePakistanBetter.com, if you want to add these pics to exisiting article please mention the article name, if you want pics to be added as new article just mention new article name
way 2-if pics have size less then 25 kb or are uploaded on the web or are present on the web and you want to add them then you do the following steps.
1-Go to compose Article/Reply section and click on Tree/Image icon, mentioned below


2-after following abve step below window will open, just follow the steps described in below image and press OK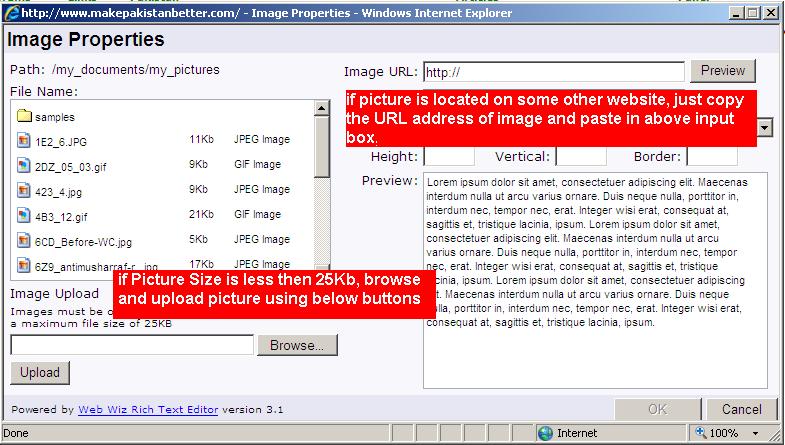 I am very hopeful that this article is helpful in solving your problems regarding adding Article/Voice/Reply/Comment /Response.
Please, add your voices/articles to the site www.makePakistanBetter.com and help us in building the successful and effective think tank of Pakistan.
If you still have problems do not hesitate to write me on this email webmaster@makePakistanBetter.com